ABOUT OUR PATCH
Revelation Chapter 19:11-16 describes our patch although limitations in embroidering do not perfectly display the details as seen by the artist's work below:
Rev 19:11 And I saw heaven opened, and behold a white horse; and he that sat upon him [was] called Faithful and True, and in righteousness he doth judge and make war.
Rev 19:12 His eyes [were] as a flame of fire, and on his head [were] many crowns; and he had a name written, that no man knew, but he himself.
Rev 19:13 And he [was] clothed with a vesture dipped in blood: and his name is called The Word of God.
Rev 19:14 And the armies [which were] in heaven followed him upon white horses, clothed in fine linen, white and clean.
Rev 19:15 And out of his mouth goeth a sharp sword, that with it he should smite the nations: and he shall rule them with a rod of iron: and he treadeth the winepress of the fierceness and wrath of Almighty God.
Rev 19:16 And he hath on [his] vesture and on his thigh a name written, KING OF KINGS, AND LORD OF LORDS.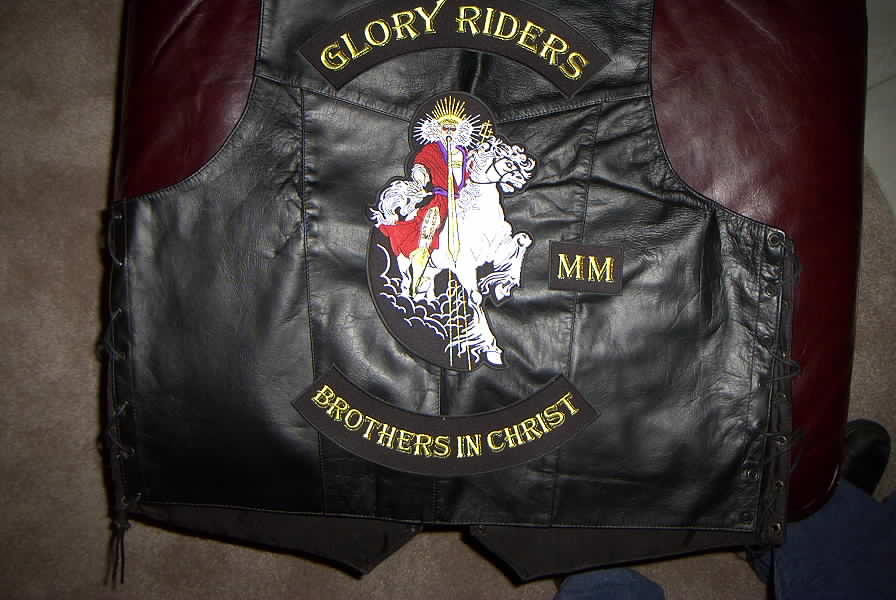 Above is the patch under which we ride. It is from the great artwork shown below, although our patch is not near the perfection and beauty of the art.
MAY THE LORD JESUS CHRIST CONTINUE TO PROVIDE GREAT REWARDS TO PAT MARVENKO SMITH, THE CREATOR AND ARTIST WHO DOES WONDERFUL WORK UNTO OUR LORD THROUGH HER GREAT ARTISTIC ABILITY.
GLORY RIDERS IS TREMENDOUSLY PROUD TO BE ABLE TO UTILIZE HER ARTISTIC DEPICTION OF THE HOLY SCRIPTURES BOOK OF REVELATION, TO CREATE OUR PATCH. PLEASE VISIT HER WEBSITE OFTEN. EVERYONE AND ESPECIALLY TEACHERS AND CHURCHES WILL ENJOY SEEING WHAT A FABULOUS TOOL HER ARTWORK IS TO TEACH REVELATION TO ALL AGES.
Art used by permission by Pat Marvenko Smith, copyright 1992.
Click here to visit her "Revelation Illustrated" site.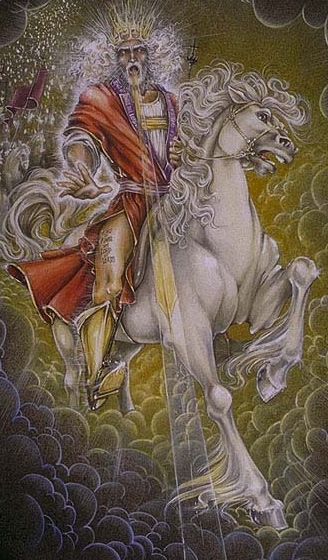 Revelation Illustrated
King James Version or NIV? See what God has to say!
Homosexuality is it OK by GOD?
WHERE ARE YOU GOING WHEN YOU KICK THE BUCKET? Get on this Road To Eternity, if you REALLY want to ride with Thunder
GLORY RIDERS HOME
Flash GRMM GALLERY OF PATCHES
Membership Page
Lucky's Purple Heart Page
Lucky's 11th Armored Cavalry- C-Troop-Vietnam 1969-70
11th Cavalry Morning Reports

Fort Knox Gallery and Patton Museum

Freedom Page leads to Blackhorse VN Photo Gallery

MUST READ---It Don't Mean Nuthin